With a Virtual Tour your customers can see the location as it would be there. They can walk through the rooms like they have there. Virtual Tour is the best way to a location and exposure of your business.
A Virtual Tour is a simulation of an existing location, usually composed of a sequence of video images. They also may use other multimedia elements such as sound effects, music, narration, and text. The phrase "virtual tour" is often used to describe a variety of video and photographic-based media. Panorama indicates an unbroken view, since a panorama can be either a series of photographs or panning video footage. However, the phrases "panoramic tour" and "virtual tour" have mostly been associated with virtual tours created using still cameras. Such virtual tours are made up of a number of shots taken from a single vantage point. The camera and lens are rotated around what is referred to as a nodal point (the exact point at the back of the lens where the light converges).
A video tour is a full motion video of a location. Unlike the virtual tour's static wrap-around feel, a video tour is as if you were walking through a location. Using a video camera, the location is filmed while moving from place to place. Video tours are continuous movement taken at a walking pace.
Virtual tours are used extensively for universities and in the real estate industry. Virtual Tours can allow a user to view an environment whilst on-line. Currently a variety of industries use such technology to help market their services and product. Over the last few years the quality, usability and accessibility of virtual tours has improved considerably, with some websites allowing the user to navigate the tours by clicking on maps or integrated floor plans.
Web-based
For most business purposes, a virtual tour must be accessible from everywhere. The major solution is a web-based virtual tour. In addition, a rich and useful virtual tour is not just a series of panoramic pictures. A better experience can be obtained by viewing a variety of materials such as that obtained from videos, texts, and still pictures in an interactive web content. There are many ways to gather data in a mixed web content, such as using rich content builders (Java applet or Adobe Flash being two examples) or a Web content management system. Immersive rich, full screen Flash-based tours are becoming very popular today. A study done by the PEW Research Group showed that more than 5 million Americans watched virtual tours every day in 2004
PEW's research data which showed that Americans watching virtual tours rose from 54 million people in 2004 to 72 million people by August 2006. Meaning that in two years—an increase of 18 million. Assuming the same growth rate of 18 million people every two years, this is 36 million people more than August 2006. Meaning that 108 million Americans are watching virtual tours as of August, 2010.
Thanks in part to the recent explosion of many Internet devices, such as Apple's iPad, iPhone and other tablet computing platforms powered entirely by Google's Android 3 operating systems such as Motorola's Xoom, it can be predicted that consumption of virtual tour content, through the use of Adobe Flash and HTML5/CSS3 driven virtual tours will only increase over time.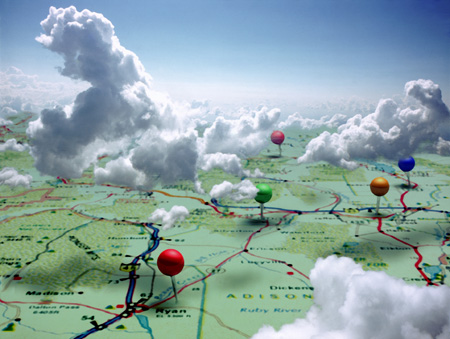 Real Estate
Virtual tours are very popular in the real estate industry. Several types of such tours exist, including simple options such as interactive floor plans, and more sophisticated options such as full-service virtual tours. An interactive floor plan shows photographs of a property with the aid of a floor plan and arrows to indicate where each photograph was taken. Clicking on arrows shows the user where the camera was and which way the camera was pointing. Full service virtual tours are usually created by a professional photographer who will visit the property being sold, take several photos, and run them through stitching software. Full service virtual tours are usually more expensive than interactive floor plans because of the expense of the photographer, higher-end equipment used, such as a digital SLR camera, and specialized software. Real estate virtual tours are typically linked to the listing in the Multiple Listing Service.
Slide Shows Disguised as Virtual Tours Over the past few years, slide shows have become somewhat blurred into being marketed and sold as "virtual tours." Slide shows will slide left and right. Zoom in and out. A virtual tour will allow a user to enter a home and click a mouse to pan up, down and all around and navigate to another hot spot arrow to move onto the next view. This is a true "virtual tour." More advanced forms of virtual tours will include Google maps with 3D radar hot spots on them. This includes custom floor plans which also feature spots, allowing users a wider freedom to explore homes, buildings and other locations around the world in new ways just by clicking their computer's mouse button. Slide shows, by their very nature simply lack these abilities and should never be confused or associated with the term: Virtual Tour.
A virtual Tour Is ideal for presentation for one and many locations in restaurants, bars, pubs, hotels, clubs and other famous location you want.
Request a quote now : office@in-picture.com